Moderator: Sex & Relationships Moderators
Veteran
Posts: 2494
Joined: Mon Jan 05, 2004 1:26 am
Contact:
That sounds painful.... Take more pictures!!!! Pweeeeeze?
Email me
If you ever need someone to talk to and I'm not online, drop me an E-mail. I'll get it on my phone!
Myspace
Want to know more about me? Here's my myspace. You can see pictures of my family, and keep up with my life here.
I LOVE my Son Ethan who is 10 months old and my wonderful husband who is signing up for the Army!
---
Veteran
Posts: 6271
Joined: Fri Dec 20, 2002 4:46 am
Contact:
More pictures will be coming.

The baby shower is this Saturday so expect lots of pictures..



Went in for the ultrasound today.. Logan weighs aproximately 5 pounds 6 ounces and his little head is in the the right place so he's comin soooooon.
---
Loyal
Posts: 817
Joined: Mon Jan 15, 2007 1:11 am
Contact:
that's so exciting!
You couldn't be suicidal if your life depended on it.
there i go again, pretending that i'll
fall
don't call the doctors!
they've seen it
all
before
they'll say just let her
crash
and
burn
she'll
learn
the
attention
just
encourages
her.
- Dresden Dolls "Girl Anachronism"
---
Veteran
Posts: 7463
Joined: Fri Mar 14, 2003 12:48 pm
Contact:
Yay! Baby shower! Those are fun! I never posted my pictures because I was BIG pregnant (Like a beach ball or something!) and I looked bad xD
I can't wait to see the baby belly! And all the presents. So so fun!
And aaahh. I never got the flu shot >.< You're braver than me lol!!
---
Veteran
Posts: 6271
Joined: Fri Dec 20, 2002 4:46 am
Contact:
Lol silly.
Allen has the camera with all the pics.
My belly hasn't grown much.. still tinyyy.
here's one of the recent ultrasound picturs..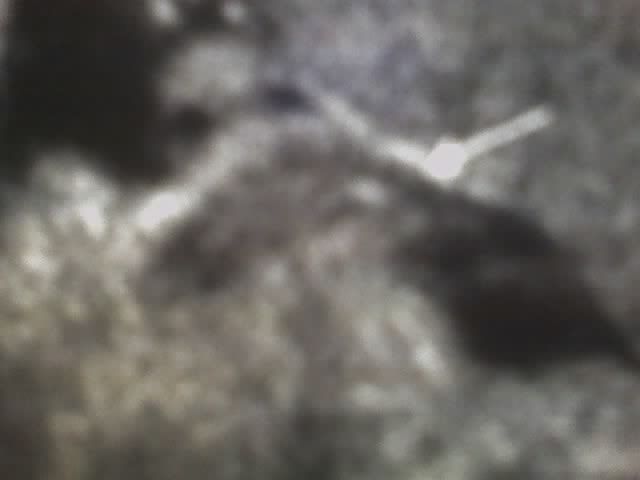 Giant face hahahaa. You can only see his lips and his nose because of where his heads at.. little booger. haha.
Think he has enough blankys? He has one more that his great grandma made him but it was hanging up because we washed it. (Great grandpa smokes so had to get the smoke smell out of it) But it's wayyyy cute.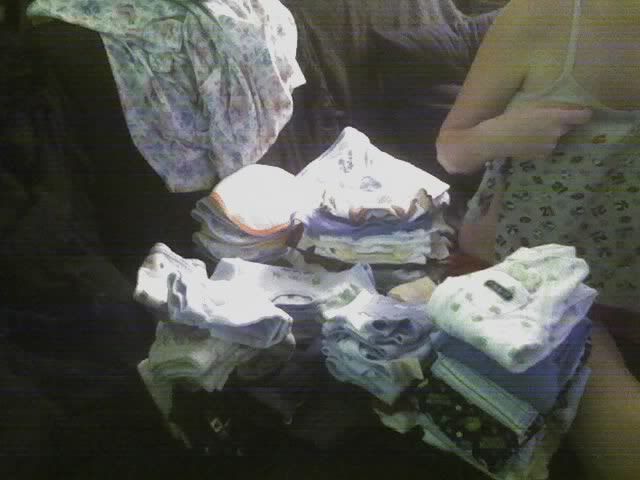 Some of the clothes he got...... This kid has 22 pairs of socks already! (That's more than me haha)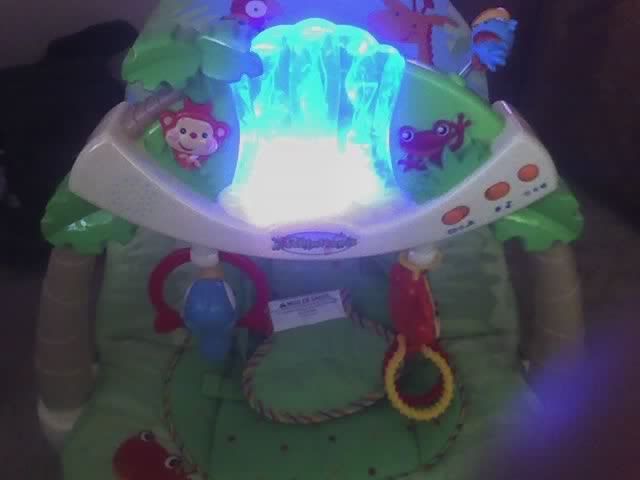 The present Mandy sent Logan. (Allen adores the thing.. wont let me go near it haha)
and last one we have from my phone...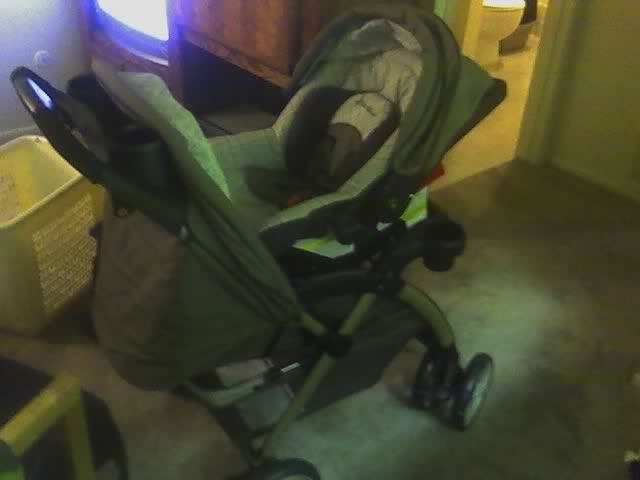 The carseat and stroller that my dad bought for Logan. That thing is amazing.
I'll post pics from the baby shower when allen brings the camera home.
---
Veteran
Posts: 7463
Joined: Fri Mar 14, 2003 12:48 pm
Contact:
I love the light on it! How it glows O.O
The presents. <3
Woot!
---
Veteran
Posts: 6271
Joined: Fri Dec 20, 2002 4:46 am
Contact:
Lol it's pretty... It'll def put ya to sleep if you look at it long enough haha
---